Profile
Year(s) active: 1997-1999
Position: National Representative
Section: ESN Leeds

Degrees: Politics and European Parliametary Studies (Bachelors), University of Leeds; European Social Policy Analysis (Masters), University of Roskilde (Denmark) & University of Ljubljana (Slovenia)
Exchange: Ghent University, Belgium (September 1996 - January 1997)
ESN Career
Anja van den Berg (née Groth Larsen) and I studied abroad in the first semester of our second year at the University of Leeds. We studied European Politics in Gent, Flanders, and worked part-time in the European Parliament. ESN Gent was well established and a vital source of support for us Erasmus students.
Having lived, studied and worked with so many Europeans, when we returned to Leeds, Anja came up with a very sensible idea - we should set up ESN Leeds. Whilst Erasmus students in the UK had a lot more support than in many places - with Universities arranging their accommodation and a wide variety of social and sporting societies to get involved in - we were keen to relive our European experiences, get to know Erasmus students in the UK and encourage more British students to study abroad.
Setting up ESN Leeds also had a useful spin off, we could attend the ESN AGM in Gent which took place a month after we'd returned to Leeds. 
If I remember correctly we spent most of the second semester getting backing from the University European office and recruiting Erasmus returnees to help run ESN Leeds. Either way our energies can't have just been on ESN as we had lots of campaigning to do for the Labour Party as well, there was the historic win in May 1997 to fight for.
At the Freshers fair in Oct 1997, we recruited members and managed to organise a variety of events over the year whilst trying to complete our degrees. I think we mainly held socials in the pub, there may have been a trip to the countryside and we hosted a superbly attended Eurovision party. It was the year Gina G nearly won for Britain, students from around Europe all cheered on their countries and British friends from Leeds Labour and beyond all got into the European spirit.
We attended the AGM in Graz in 1997 when I became the National Representative and witnessed the Pallomeri speech from Matteo Baggio. If I remember rightly there was a concern that the board was becoming too serious and the true spirit of Erasmus was being lost from the AGM. As a result my election to the Board as UK NR a was widely welcomed by the Latin contingent!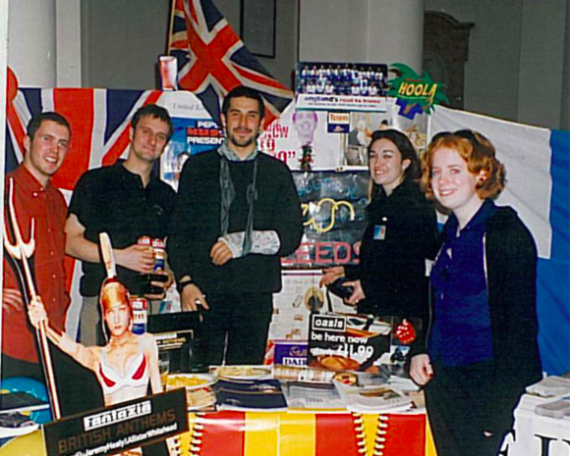 AGM Graz 1998. Left to Right: Paul Hailey, Dave, Marco Incerti, Anja Groth Larsen, Anne Fairweather.
We had a UK stand in the fair with a variety of items we blagged from record shops in Leeds and a crate of beer donated by Tetley. Anja and I were joined by Paul Hailey (a European studies student) and 2 guys who had studied engineering in Spain I think. The AGM was opened, I think, by a young centre-right Austrian politician. We managed to miss the opening but bumped into the guy in a bar afterwards. This resulted in an invitation to stay at a hostel for young Christian Democrats in Vienna and a visit to the Austrian Parliament. Whilst Anja and I were firmly committed to Labour we thought it would be best to create dialogue in Europe and we happily agreed to this invitation. The trip ended very bizarrely. It was the day after carnival and the MP and his assistant had been partying all night and still had their Tuxedos on when we met them in the Austrian Parliament for a guided tour!
After our finals ESN Leeds suffered as is often the way in the UK. As the current crop of Erasmus students was just returning it was hard to find someone to pass the baton onto.
I remained the NR and attended a board meeting in Lisbon which was accompanied by a trip to the World Expo. My main memories were how late our Portuguese hosts were to everything and learning how to drink vodka straight with the Finnish and Danish NRs. As the British Representative I felt it was my duty to learn this skill!
The following year the AGM was in Århus. Anja grew up in Liverpool but had plenty of family in Denmark so we decided to go to the AGM one last time. On the first night I was told my accommodation was sharing a suite in a hotel with 3 Slovenians I had just met. I was rather surprised but within 24 hours we were the best of friends. 
We must have had a UK stand but I don't recall much about it. My main memories were meeting up with Marco Incerti from ESN Roma again - this time without a broken arm. Sitting in a session about 'formation' - I eventually had to ask what they were talking about, it turned out it was training and someone complained that I should improve my European English! Having to decide which 'platform' we could join (the Benelux, Nordics or Southern Europeans) and dancing a waltz with a Dane who pointed out I should let him lead.
During this time I also spoke at some events for the UK Erasmus office all aimed at encouraging more UK students to study abroad.
 
Post-ESN
After ESN I continued to refine the art of studying and working abroad in English. I took a Masters in a European Social Policy Analysis on the basis it meant to go go to Ljubljana and see my Slovenian friends again. I was meant to arrive in time to help with the AGM in Portorož but, as is often the way, the first half of my second semester was moved from the University of Ljubljana to Roskilde University in Denmark at the last minute so I missed the AGM. 
After my Masters I worked in Brussels for 5 years in the European Parliament and for the CBI. After having shared a flat with a Danish friend I'd studied in Slovenia with, I needed a new flat mate. Conveniently Marco from ESN Roma had just got a job in Brussels so I immediately suggested he should be my new flat mate. Only considering afterwards that I'd only met him twice at AGMs and a third time for the day in Rome when I was visiting an Italian friend from my Masters. Luckily it worked out very well!
I returned to London in 2005 and have used my European expertise in a number of jobs. In addition I ran in the 2009 European elections as a candidate for the Labour Party.